Accessories
The Roland FP-30 comes with the following accessories:
Music Rest
DP-2 Sustain Pedal
AC Power Adapter
Owner's Manual
Stand
The FP-30 doesn't come with a stand, so unless you want to put it on top of a table (which I don't recommend due to the down-facing speakers), you'll probably want to buy some kind of stand.
Specifically for the FP-30, Roland designed the KSC-70 furniture-style stand, which is a great stationary solution for home-based musicians.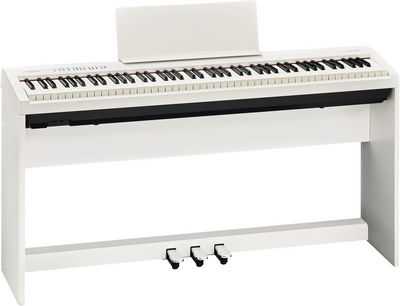 Roland KSC-70 stand
A more portable and affordable option would be an X-type or Z-style stand, which are much easier to move around and put away when not in use.
Here are a few great X-type stands for the FP-30:
1. RockJam Xfinity Infinitely Adjustable X-type Stand
2. Plixio Adjustable Heavy Duty Z-type Stand
3. World Tour Double-X Stand
Sustain Pedal
The FP-30 comes with the Roland DP-2 sustain pedal. It's basically a box-like plastic pedal, which doesn't look/feel very realistic and it doesn't support half-pedaling.
While the included pedal would probably satisfy a beginner player, others might need something more realistic.
The hugely popular M-Audio SP-2 would be a great alternative to the included pedal.
The SP-2 is a piano-style sustain pedal, which looks and feels very similar to an acoustic piano pedal and has a durable metal construction with a slip-resistant rubber bottom.
For those who are going to buy the KSC-70 stand we mentioned earlier, Roland also offers the KPD-70 3-pedal unit (attaches to the stand), so it makes sense to buy them together to get a full-fledged home setup.
Bag
While for home use a keyboard bag would be absolutely unnecessary, it's an essential accessory for on-the-go musicians that will make the transportation of the keyboard safer and much more convenient.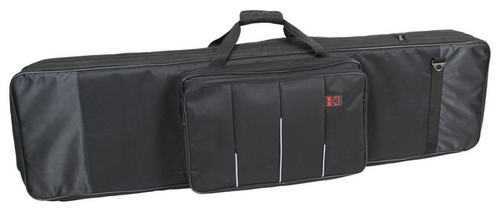 For its 88-key instruments, Roland has designed the CB-88RL carrying bag, which is quite expensive and quite hard to find in the US.
So here are some great gig bags I've found for the FP-30 from other brands:
1. Gator 88 Note Keyboard Gig Bag
2. Kaces 15-KB Xpress Series Keyboard Bag
3. Casio PRIVCASE Privia Case
Headphones
Headphones come in very handy when you want to practice in private, focusing solely on your playing and not disturbing others nearby.
Moreover, a good pair of headphones will provide a clearer and more detailed sound compared to the onboard speakers.
Check out this guide to learn how to choose the best-sounding headphones for your digital piano.
Note: The headphone amp on the FP-30 is a bit weak, so if you intend to use headphones with a relatively high impedance (> 40 ohms), you might need an external headphone amp to achieve optimal audio quality/volume levels.
Design
The FP line of digital pianos by Roland has been designed to be first and foremost portable. And the FP-30 is probably the most portable of them all.
It only weighs 31.1 pounds. With all the technology installed on it, the weight is ideal for you to be able to move it from a location to another with relative ease. It's a little heavier than the alternatives, but not so much as to make a considerable difference.
The dimensions of this piano are 51.2″ x 11.9″ x 5.9″. It's really compact enough to fit in most small places. If you live in a condo and space is at a premium, or you thought about placing it in a smaller room of the house, it fits right in your expectations.
Because Roland puts this model into their stage piano category, and keeping its compact dimensions in mind, I think it's safe to say that it's a good choice for musicians who need to move their piano around a lot.
An aspect where the FP-30 is showing great improvement over its predecessor is the overall looks. To me it seems as an orderly design, completely clutter free with a nice row of illuminated buttons.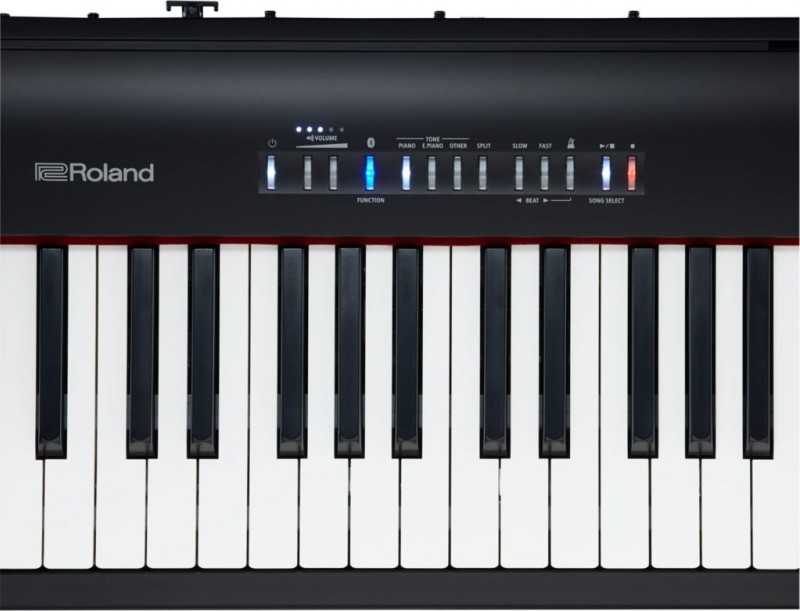 As mentioned above, this piano has a clutter free control panel, with a single row of 13 buttons which grant access to all the functions. It usually takes a button and key combination to access some of the functions from the menu. When thinking about it, it might seem as something complicated, which needs a learning curve. And it does, at the beginning, until you get used to all of the combinations. But any way, most digital pianos in this price range work like that.
So, some people might consider this control panel not fancy enough, so to say, but it works great, and in my opinion it has a certain appeal to it.
Features
Modes
The FP-30 offers two modes for playing two instrument sounds at the same time by either splitting or layering them.
Split Mode divides the keyboard into two sections and allows you to play a different sound in each of them. You can also adjust the split point where the keyboard is divided.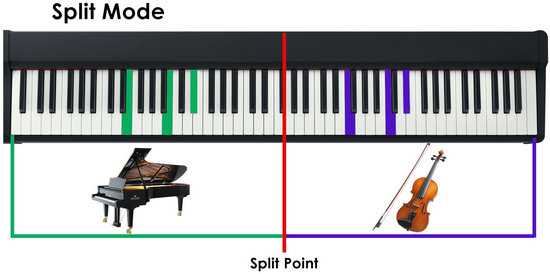 Dual Mode will allow you to layer two different instrument sounds so that they sound at the same time whenever you play a key. For example, you can layer a piano sound with strings or electric piano with harpsichord, etc.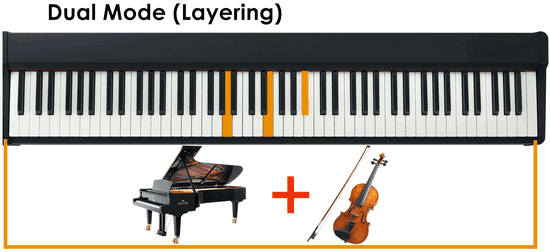 For each of the modes, you can adjust the Mix (volume) balance to make one instrument sound more prominent than the other.
Another useful Mode available on the FP-30 is called Twin Piano (Duet Play). The mode splits the keyboard into two equal parts with identical pitch ranges each having its own middle C, which allows two players to sit side by side and practice together.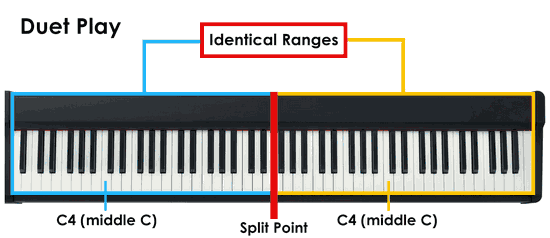 The mode is often used in the class environment where a teacher sits next to a student and plays some tunes, while the student follows along on the other side of the keyboard playing the same  notes.
Recording and Playback
The FP-30 has a 1-track MIDI recorder, which you can use to record your performance and save it to the piano's internal memory or a USB flash drive for a later playback.
Not only can you play back your own recordings and 30 built-in songs from the piano's memory, but you can also play MIDI and WAV files directly from a flash drive. And this is what most of the FP-30's competitors does not offer.
Since the FP-30 is capable of only 1-track recording, you can't record each hand part (or instrument part) to a separate track.
However, you can still create multi-track recordings using certain music-making apps (e.g. GarageBand, FL Studio, etc.) on your computer or tablet.
Transpose, Octave shift, and Master tuning
The FP-30 offers a bunch of functions to adjust the pitch of the keyboard, for example, to match the pitch of another instrument or vocalist.
Transpose function will allow you to shift the pitch up and down in semitone steps.
You can use the function to facilitate playing songs written in a difficult key (e.g. many black keys) or if want to hear a song in a different key without actually learning it in a new key (without changing your fingering).
Octave shift function allows you to change the pitch of the keyboard in octave units.
Using Master Tuning, you can raise or lower the pitch of the entire keyboard in 0.1Hz steps.
Other Features
The FP-30 offers 30 built-in songs that you can listen to and play along with.
Unfortunately, you won't be able to change the tempo or turn off one hand's part to practice it.
The piano has an onboard metronome, which is a nice practice tool that will help you improve your time-keeping skills.
There are also 8 drum patterns that you can use as an alternative to the simple metronome count.
"Auto off" function will prevent unnecessary power consumption by automatically turning the FP-30 off after a specified amount of time (10, 30 or 240 minutes) of inactivity. The function can be disabled if needed.
Keyboard
The Roland FP-30 has a fully weighted 88-key keyboard with escapement. It also has ivory feel keys, which in this price range is something offered only by Casio's hammer action keyboards.
The hammer action is called PHA-4, the 4 standing for the 4th generation of hammer action from Roland. It's the same hammer action that is present on higher priced digital pianos from Roland. Compared to the 3rd generation, this one has a better internal mechanism and produces less noise. This ultimately results in a more close experience to that of an acoustic piano's keyboard.
The authentic sensation is confirmed even further by the progressive characteristic of the keyboard. This means that keys feel lighter towards the higher end and heavier towards the lower end.
The keys are provided with a 3-sensor system that detects all the parameters of the way they are played, responding accordingly.
You also have the possibility to adjust the touch sensitivity of the keyboard choosing one of the 6 levels. These are: Fixed (Off), Super Light, Light, Medium, Heavy and Super Heavy. This advantage compared to the alternatives, which usually don't have more than three sensitivity levels.
The 'fixed' setting corresponds to turning off the touch sensitivity of the keyboard. If you select this option, it will not matter how hard or light you press the keys, the sound will have the same amplitude in any case.
The closest setting to that of an acoustic piano's keyboard, which offers the most dynamic range is the 'super heavy' setting. This will allow you to render the ultimate level of expressiveness to your performance. You must keep in mind, though, that if you choose this setting, you will have to strike the keys with much force in order to produce a very loud sound.
I recommend using the heavy or super heavy settings, even if you are a beginner. This way you learn the right finger technique from the start so that you can translate your performance to an acoustic piano at any time, without needing to adjust to it.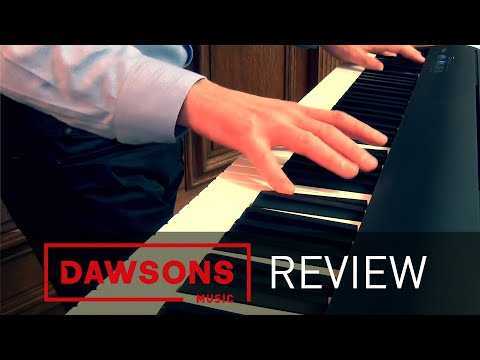 Watch this video on YouTube
Polyphony
Polyphony is the ability of a digital piano to play a certain number of notes at the same time. With acoustic pianos this is not an issue. But with digital pianos there's a need for a lot of memory in order to play multiple notes at the same time before the first sustained notes start falling off.
The Roland FP-30 has a fair amount of polyphony, 128-notes. With this amount it's perfectly possible to play complex musical pieces without reaching the polyphony limit. You will probably never experience notes falling off, even while using certain modes, like the layering mode, where more polyphony is needed.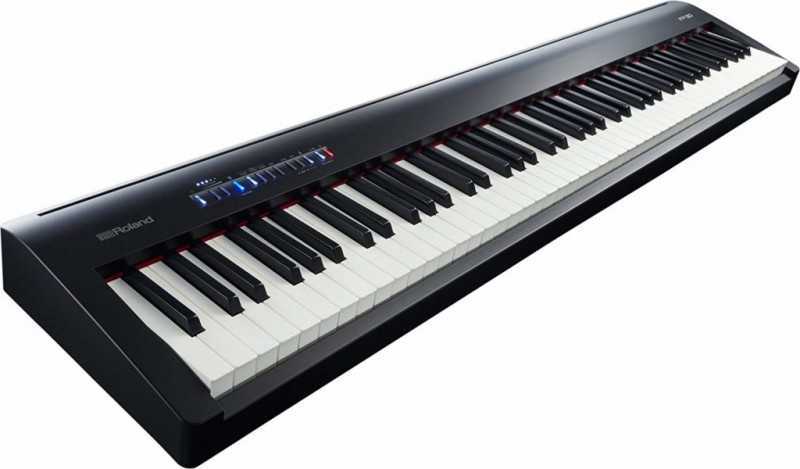 Summary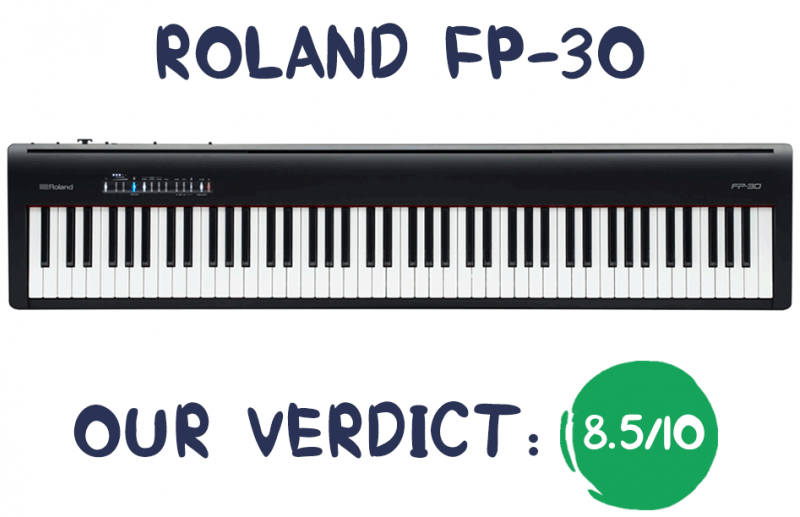 | Pros | Cons |
| --- | --- |
| &nbsp Gig-friendly | &nbsp Slightly heavier than competitors |
| &nbsp Excellent key action with Escapement and Ivory Feel keys | &nbsp Not many options for sound customization (effects, settings) |
| &nbsp Incredibly rich piano sound with SuperNATURAL sound engine | &nbsp No lesson function (R/L hand parts of the internal songs can't be practiced separately) |
| &nbsp 35 built-in instrument sounds | &nbsp No Line Out jacks |
| &nbsp Powerful onboard speakers (22W) | |
| &nbsp Bluetooth MIDI connectivity | |
| &nbsp Capable of playing MIDI/WAV files from a flash drive | |
In conclusion, I want to say that the Roland FP-30 is one of my favorite portable digital pianos under 1000$.
The piano offers a lot of value for the money, and I'd still recommend it even if the price was $150-200 more than it is.
The instrument offers an excellent fully weighted action, which feels realistic to the touch and is perfectly suitable for playing and learning the piano on.
The FP-30 is equipped with a good amount of features, including 35 built-in sounds, Dual, Split, and Twin Piano modes, 30 internal songs, an onboard MIDI recorder and more.
These are the features that will always keep you interested and make playing and learning even more enjoyable.
Another and probably the most important aspect of any digital piano is sound. Well, in this case, you don't have to worry about that as the FP-30 sounds amazing.
Thanks to the powerful 22W speakers and the SuperNATURAL modeling technology, which as it turned out isn't just a marketing gimmick, the sound of the piano is indeed very full and rich.
There are also a few more things that make the FP-30 stand out from its competitors.
Firstly, the power output from the FP-30's speakers is considerably higher than that of its competitors. As a result, the FP-30 tend to provide a wider dynamic range and more room for expression.
Secondly, the piano supports Bluetooth MIDI connectivity, which will save you time and money on buying additional adapters and cables.
In this price range, the Kawai ES110 is the only digital piano that has this feature.
All in all, the FP-30 is a very capable and versatile digital piano. Thanks to its portable design it's perfectly suitable not only for home practice but also for stage performances and music production.
Just take a look at this beautiful performance by Tom Crouch filmed in session at London's Lightship95 Studio:
Check the availability and current price of the Roland FP-30 in your region:
US: ( What Retailer to Buy From )Sweetwater Guitar Center Amazon
UK & Europe: Amazon UK Gear4Music Thomann
Connectivity
First, I would like to talk about the 2 headphone jacks that the piano has. They are both located on the font side of the piano, under the keyboard. It is a quite unusual place, but the fact that they're in the front of the keyboard versus the back panel is very convenient.
The 2 headphone jacks are of different sizes. One is a quarter inch jack and the other an eighth inch one. Again, a convenient feature because you can use your headphones with the piano irrelevant the size of their plug.
The headphone jacks are the ones you will use in the case you want to hook up external amplification as well. This is because the piano lacks dedicated line out ports. But, I don't find this as such a big issue because you can use the headphone jacks for this function.

The res of the ports are located on the back panel.
Let's start with the two types of USB ports (A and B):
You can use the USB to device port, type A, to connect the piano to a flash drive. You then can play Audio or MIDI files directly off of the flash drive, or you can save your performances onto it. I recommend having a flash drive at hand if you want to save recordings because the internal memory can't hold more than a song. When you try to record a second, the first one will be lost. So, please take note of this fact and prepare accordingly.
The second type of USB port is the type B, or also called USB to host. This connection is useful for connecting a computer to your digital piano. Then, you can use various apps, store recordings and do other stuff. You will need to buy a separate cable for this because it doesn't come with the piano. The good news is that it's very affordable.
But actually, there isn't a real need for this connection because you also have a Bluetooth MIDI connection that you can use to connect your devices wireless. The condition is for the devices to have Bluetooth capability.
Like other digital piano manufacturers, Roland also offers a number of dedicated apps that enhance the experience their instruments offer. The app that works with the FP-30 is the Piano Partner 2. Through this app you can control the parameters of the piano, access different practice exercises and learning features.
Last, but not least, the piano also has a sustain jack as part of this panel. Using this port, you will connect the sustain pedal that is part of the package.
Recording
The FP-30 has a 1 track MIDI recorder built into it. After recording your performance with the help of this feature, you can save it either to a flash drive or to the piano's own memory.
A feature that differentiates most of the alternatives from this digital piano is the lack of the ability to play back files directly from the flash drive. The FP-30 can play back both Audio files as well as MIDI files.
For some more advanced pianists the 1 track limit of the MIDI recorder might seem as an impediment, but there is a possibility of creating multi track recordings by using music apps which work with most iOS or Android devices.
Besides the ability of playing back your own recording, the piano also comes with 30 songs which are stored onto the internal memory. There is a minor inconvenience here for some users, though. You can't listen to one hand's part at a time in order to learn the song easier. You also can't modify the tempo. So, there are certain limitations to this feature.
Design
The Roland FP-30X follows the original's design, almost to a T. Unfortunately, this means a lot of my original complaints still apply.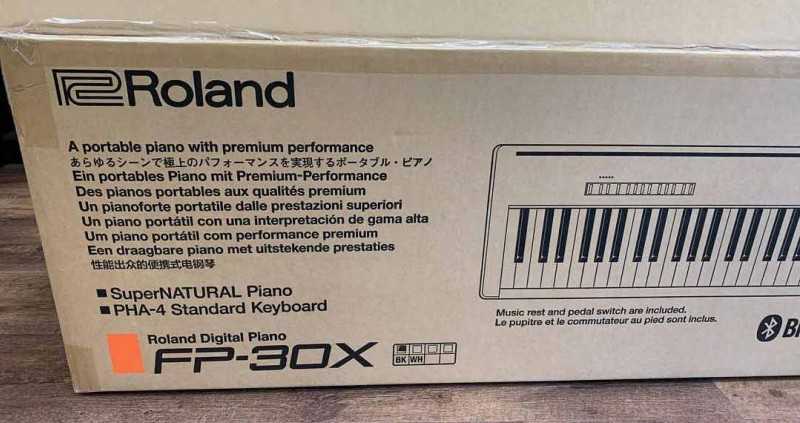 As you'd expect from a digital piano, the Roland FP-30X is a little on the bulky side. Its dimensions are nearly identical to the original FP-30, and the extra bulk likely comes from some of the extra connections included on the rear panel.
In terms of portability, I'd consider the FP-30X to be passable. It is not something I'd enjoy lugging around on my back. The FP-30X will likely be used as a home-based digital piano, especially for people living with limited space.
| View on Amazon | Keys | Width | Depth | Height | Weight |
| --- | --- | --- | --- | --- | --- |
| | 88 | 51.2″ | 11.2″ | 6″ | 32.6 lbs |
| | 88 | 50.8″ | 13.5″ | 5″ | 42.5 lbs |
| | 88 | 52.2″ | 11.9″ | 6.5″ | 26 lbs |
| | 88 | 52″ | 9.1″ | 4″ | 24.7 lbs |
| | 88 | 51.6″ | 11.2″ | 5.8″ | 26.5 lbs |
| | 88 | 51.6″ | 13.2″ | 4.6″ | 25.1 lbs |
| | 88 | 55″ | 17.5″ | 5.9″ | 47.2 lbs |
Let's talk about aesthetics. The FP-30X comes in two colors: white and black. I'm personally a fan of darker colors because it hides dirt, but the white model does look striking, especially when it's paired up with the matching furniture stand.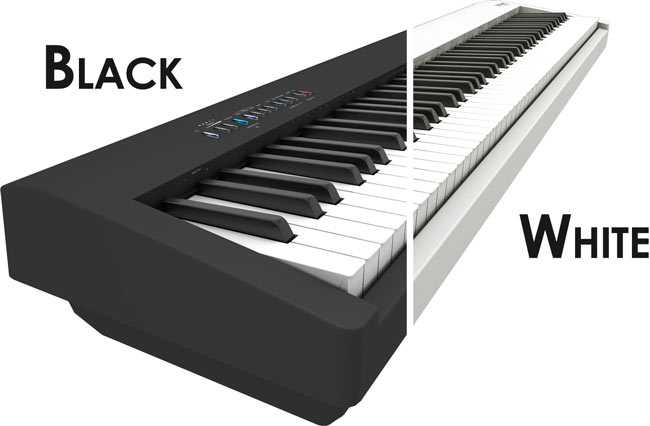 The white version will also help hide occasional scratches and dust. Speaking of scratches, the black matte plastics used for the FP-30X (and its predecessor) tends to accumulate white traces whenever you touch the surface with your nails.
Those look like real scratches, but they are not, and can easily be removed with a piece of a wet cloth or your finger.
This isn't a big issue but does make it harder to keep the instrument looking neat. I wish Roland used a different kind of plastic that would avoid this.
Apart from that, both are equally well built with good quality plastics and solid body construction. If the last generation is anything to go by, the FP-30X will last you for quite some time.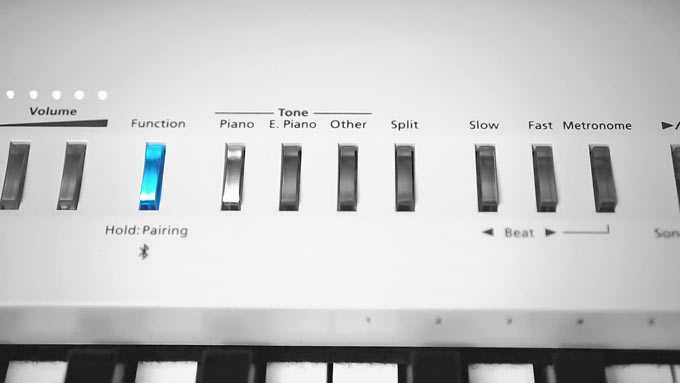 The user interface is ported over wholesale from the original FP-30, but with redesigned labelling which feels more consistent in design than the original's mixture of text and symbols. In my opinion, this makes the FP-30X look and feel cleaner.
The user interface consists primarily of 13 tall buttons, most of which include backlights to indicate their activation state, which is helpful if you're using this digital piano under low light conditions (such as on stage).
The buttons themselves feel tactile, but I'm not a fan of how limiting the control scheme feels.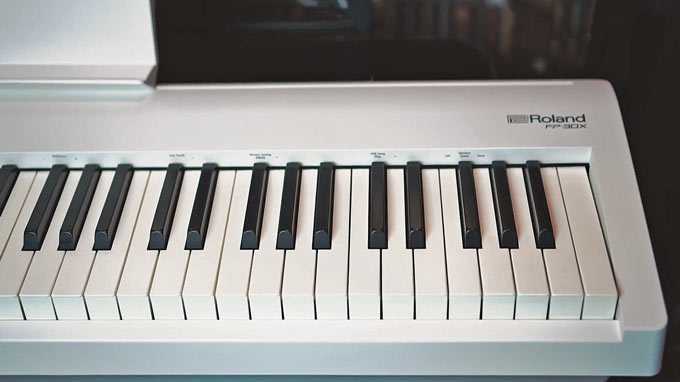 Unfortunately, 13 buttons is not a lot. To access most features, you need to rely on button-key combos, which are something I've always found to be quite annoying (although it does keep the front panel looking clean and minimal).
For example, if I wanted to switch between different piano sounds, I'd need to hold down the 'Piano' button, and hit the corresponding key on the piano to choose the voice preset I want. If you don't have the presets memorized, you'll need to have the user manual by your side.
Despite my qualms, Roland does try to make things usable. Behind the keys, there are some printed text hints which mark most of the commonly used key functions. These include transposition and metronome settings, which are commonly used during practice.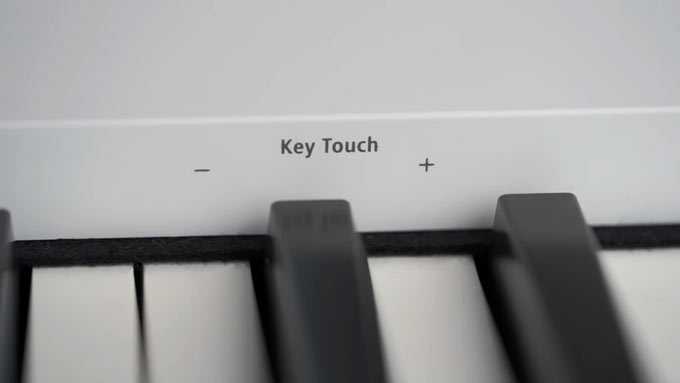 My biggest gripe with this button-based control scheme is the volume control.
You change the output volume with two buttons, each for incrementing and decreasing the volume value respectively. There are 5 LED lights which give you an indication of what the current levels are.
The problem here is that there are 100 distinct volume levels, and you can never tell what setting you're currently at without relying on external applications (connected to your digital piano via Bluetooth).
I really wish they included a simple volume rocker for more precise control, as this is just terribly inconvenient.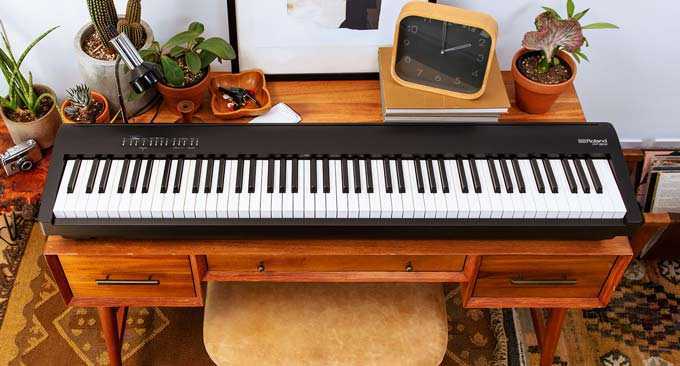 If you're getting the FP-30X for practice, these issues will be negligible annoyances. However, be sure to keep this in mind if you intend on using the FP-30X for gigging purposes, as quick on-the-fly changes are not the FP-30X's forte.
In general, the Roland FP-30X has a good, durable overall design, especially at this price point. It also manages to fix some of my issues with the original FP-30, so props to Roland for that.
Roland FP-30 vs Yamaha P-125
Both these pianos are great entry-level choices, that you can buy in ether black or white. Both offer an impressive piano playing experience at this price range. Both are portable digital pianos.
They both have optional stand and pedal units that make them fit nicely in a home setting. They also are compact enough to fit in most spaces. But, which one is the smarter choice?
The answer to this question depends a lot on the functionality you look for in a digital piano. Are you going to use it more at home, as a practice instrument, or do you need it for performances?
If you look for a musical instrument that can offer you the most convenience for frequent performances, then you should know that the P-125 is about 4 pounds lighter than the FP-30. It's not much, but it contributes to an easier transportation, especially if you will use public transportation to go to gigs.
Another advantage of the P-125 for the gigging artist are the dedicated line out sockets. You can use these ports to connect the piano to an external sound system without using the functionality of the internal speakers. With the FP-30 this is not possible, due to the lack of dedicated line out ports. You will have to use the headphone jack to connect amplification.
Let's talk a bit about the feeling delivered by each one of these musical instruments.
Right from the start, they both offer an impressive playing experience, given the price range. But, the Roland, with its more powerful speakers and SuperNATURAL sound engine feels slightly more like a more expensive digital piano. It also feels more robust, being able to take the wear an tear of a performance instrument. The Yamaha also has a great sound, that can surely stand out in a stage performance situation. But it kind of feels less robust compared to the Roland.
From the point of view of the different sounds delivered by the two pianos, both stand really well at this chapter. The on board sounds on both models are rendered with clarity and precision, each one excelling in certain sounds. Being so well calibrated, it's a matter of taste which one you like most judging by the on board sounds.
The keyboard actions are very realistic. As realistic as it gets when trying to fit an acoustic piano's keyboard and inner workings into a compact size, such as the these two digital pianos'. I tend to prefer the keys of the Roland because of their finishes. The artificial ivory tops feel great when touching them, and offer a nice degree of grip during long performances. The Yamaha only has standard plastic keys and matte finished black keys. They are really nice, don't get me wrong, but I still send to like Roland's more, in this case.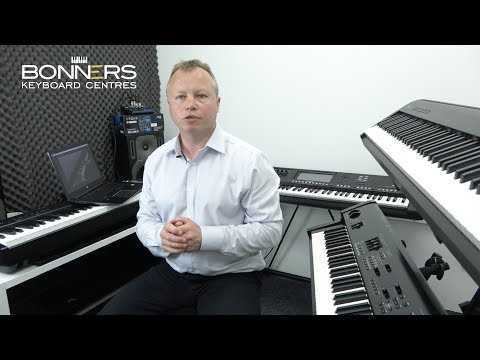 Watch this video on YouTube
So, to conclude our comparison, it really comes down to the exact expectations you have from a digital piano. I would say that the Yamaha might be a better choice for performances, because of the line out sockets and easier transportation. Whereas the Roland lends itself better for home use, especially if you decide to buy the furniture type stand and 3 pedal unit.
As I see it, considering the relatively affordable price range of these instruments, you can get both and use the Yamaha for performances and the Roland installed at home. That's if you really need one for performances but want a better looking, furniture type for home.
For a more details, check out my Roland FP-30 vs Yamaha P125 comparison.
Learn more about this alternative for the FP-30 by reading our full review of the Yamaha P-125.
Keyboard
The FP-30 features 88 progressive hammer action keys with Ivory Feel and escapement feature.
Progressive implies that the keys are heavier in the low-end and lighter in the high-end just like on an acoustic piano.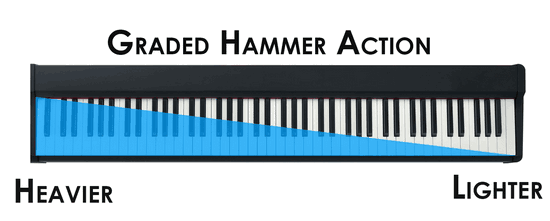 The action of the FP-30 is called PHA-4 Standard, which is Roland's newly developed action of the 4th generation.
It's a successor of the Roland's Ivory Feel-G action (PHA-3), which comes with some significant improvements. In particular, the PHA-4 tend to produce less noise than PHA-3 action and have an improved mechanism.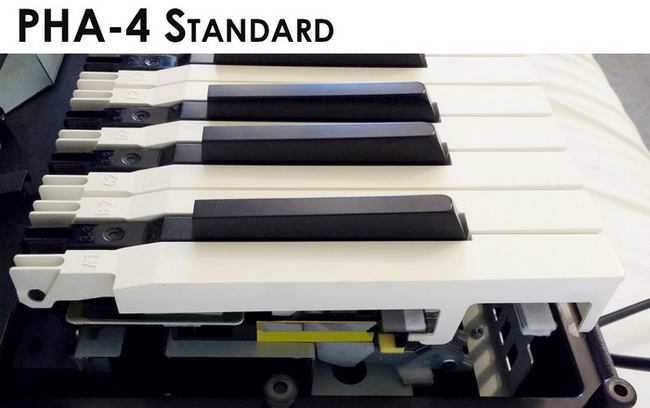 The interesting thing is that the FP-50, which is almost as twice expensive as FP-30 has the PHA-3 action.
Roland's PHA-4 together with Casio's Tri-sensor Scaled Hammer Action II are the only keyboard actions that offer Ivory Feel keys in this price range.
Both actions feature 3-sensor key detection system, and provide precise and authentic playing experience. With that said, Roland's action felt slightly heavier and more realistic to my taste.
The keys of the FP-30 are touch-sensitive, meaning the harder you strike them, the louder the sound. You can adjust the level of sensitivity to suit your playing preferences.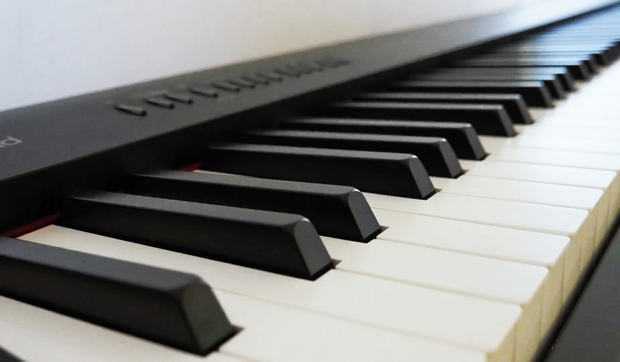 Most digital pianos offer 3 preset sensitivity settings to choose from. The FP-30 has 5 of them so that you can tailor the touch sensitivity more precisely.
There are Super Heavy, Heavy, Medium, Light, Super Light or Fixed touch sensitivity settings available.
Among all touch-sensitivity settings, the "Super Heavy" will provide the most dynamic variations from pianissimo to fortissimo and will allow you to play with great expressiveness (keys need to be stroke really hard to produce the loudest sound).
When the "Fixed" setting is selected, the volume will remain the same regardless of how hard or soft you strike the keys.
Wrapping up, the FP-30's action is really hard to beat in this price range.
The 3-sensor technology, reliable hammer mechanism, and synthetic ivory keytops provide an incredibly realistic touch and feel of an acoustic piano.
Design
Like all the keyboards in the FP series, the FP-30 is designed to be portable and ideal for fitting into smaller spaces.
Indeed, the FP-30 is a very compact digital piano, which, if needed, can be put on a desk or a table without a problem.
The FP-30 has a very similar size to other portable keyboards in this price range. It's 51.2 inches wide, 11.2 inches deep and 5.9 inches high.
At the same time, the piano is slightly heavier than most of its competitors and weighs around 31 lbs.
Take a look at the table below to quickly compare the FP-30's size to some other popular digital pianos:
| View on Amazon | Keys | Width | Depth | Height | Weight |
| --- | --- | --- | --- | --- | --- |
| | 88 | 51.2″ | 11.2″ | 5.8″ | 31 lbs |
| | 88 | 51.6″ | 11.2″ | 5.8″ | 26.5 lbs |
| | 88 | 52.2″ | 11.9″ | 6.5″ | 26 lbs |
| | 88 | 52.0″ | 11.5″ | 5.5″ | 24.5 lbs |
| | 88 | 51.6″ | 13.2″ | 4.6″ | 25.1 lbs |
| | 88 | 52.2″ | 11.6″ | 6.0″ | 25.4 lbs |
| | 88 | 52.7″ | 16.6″ | 5.7″ | 24 lbs |
As you can see the piano is fairly compact and is even listed in the "Stage Pianos" category on Roland's website, so it's safe to say that the FP-30 would be a perfect choice to gig and travel with.
The appearance of the piano has been changed a lot over the previous F-20 model.
Now, it's a contemporary-looking piano with a clean design and a row of nicely illuminated buttons, which give the instrument a fresh look.
The control panel of the FP-30 is pretty simple. There are 13 buttons, which allow you to access the main sounds and functions of the instrument.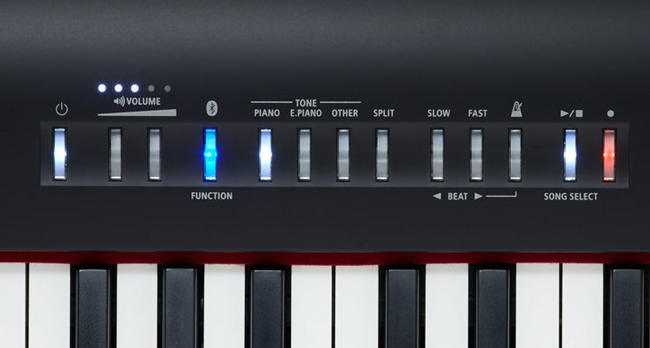 To change most of the settings you'll need to press one of the keys while holding a particular button.
It's not very convenient because at first, you'll have to look up those "Button + Key" combinations in the manual.
However, you can't blame the FP-30 for that because this way of navigating is found in pretty much every digital piano in this price range.
So when it comes to controls, the FP-30 is an average budget keyboard and doesn't offer anything special like an LCD screen, for example.
The keyboard is available in two colors, black and white.